Repetitively challenging our borders with nuclear strike aircraft, the Russians are becoming bolder by the day. You decide. We have the weakest president in the history of this nation and the once defeated Soviets are gaining strength over us by the day as a result of our national complacency. How long before the Russoans assert their dominance globally and slap America down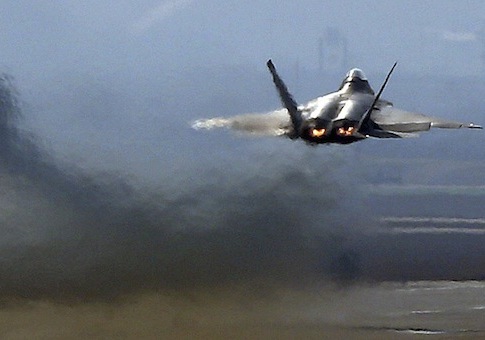 Russian strategic bombers conducted flights within the U.S. defense zone close to northern Alaska and the Aleutian Islands last week in Moscow's latest incident of nuclear saber rattling against the United States, according to defense and military officials.
Two Bear H nuclear-capable bombers were detected flying into the military's Alaska Air Defense Identification Zone (ADIZ) near the Aleutians, where a strategic missile defense radar is located, and Alaska's North Slope region by the Arctic and Chukchi Seas on April 28 and 29, military officials told the Washington Free Beacon.
Lt. Cmdr. Bill Lewis, a spokesman with the U.S. Northern Command, confirmed the fighter intercept of the latest bomber incursion but declined to provide details.
"Two U.S. F-22′s from Elmendorf Air Force Base, Alaska, were launched and visually identified Russian aircraft on the night of April 28, as the Russian Air Force flew standard out of area flights near Alaska," Lewis said.
The bombers did not enter U.S. airspace, he said.
However, the Alaska ADIZ is a formal national security zone used by the military to monitor both civilian and military aircraft. The dispatch of F-22s is an indication the bomber flights posed a potential threat to U.S. territory.
It was the fifth incident of Russian strategic bombers flying against the United States since June, when Bear bombers were intercepted near Alaska during a large-scale Russian strategic nuclear exercise that Russian military officials said involved practice strikes against U.S. missile defense sites in Alaska.
Less than a month later, on July 4, two more Bears flew the closest to the northern California coast that Russian aircraft have flown since the days of the Soviet Union.
Then in February two Bears circled Guam, a key U.S. military hub in the Pacific.
Additionally, Backfire strategic bombers flew simulated strikes against U.S. missile defenses and bases in Japan last month.